Guanajuato Legends: El Callejón del Beso
One of the most surprising legends, given its tragic and romantic flavour, is this one.
The story is told that Doña Carmen was the only daughter of an obstinate and violent man, but as tends to happen, love wins out, unlucky as it might be. Doña Carmen was courted by her beau, Don Luis, in a church near the maiden's home, where first he offered her holy water with his hand. On being discovered, she was subsequently locked up, threatened with being sent to a convent, and, worst of all, with being married in Spain to a rich, old noble, a marriage which would help to restore her father's dwindling fortune.
The lovely, obedient creature and her companion, Doña Brígida, wept and prayed together. Then, before the young girl submitted to her sacrifice, they decided that Doña Brígida should take a message to Don Luis with the unfortunate news. A thousand plans occurred to the young lover, but of all of them, there was one that seemed the best. A window in Doña Carmen's home gave onto an alley so narrow that it was possible, leaning out the window to touch the wall on the other side with a hand. If he could get into the house on the other side of the alley, he would be able to talk with his beloved and, between the two of them, find a solution to their problem.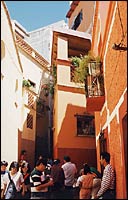 He asked who the owner of the house was and bought it for a fortune. One can only imagine Doña Carmen's surprise when stepping out onto her balcony, she found the man of her dreams so close.
When a few moments had passed since that indescribable lovers' conversation began, and the lovers were deep in thought, violent words were heard from the back of the room. It was Doña Carmen's father shouting at Brígida, who risked her life trying to prevent her master from entering her lady's chambers. The father pushed Doña Carmen's protector aside with ease, and with dagger in hand, with a single blow he plunged it into his daughter's breast.
Don Luis was shocked into silence. Doña Carmen's hand, still in his, slowly went cold. Resigned to the inevitable, Don Luis left a tender kiss on that smooth, pale hand, now lifeless. This is why this spot, undoubtedly one of the most typical of our city, is called the Callejón del Beso (the Alley of the Kiss).
See more legends of Guanajuato
Maps of Guanajuato
Click here to see a full map of the city.
More towns and cities
Know more towns and cities in the community of Guanajuato.