Guanajuato Typical Dresses - La Galareña
This woman is called a "Galareña" because she worked on the ovens in the mines, and she wore a dress made up of various pieces. It was so traditional a type of clothing that in the course of the years it has come to be considered the typical, representative costume of the women of Guanajuato.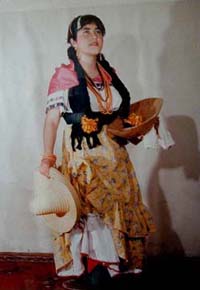 The typical dress of the Galereña of Guanajuato was made up of an A-line calico skirt; over this another skirt made of red flannel was worn, without embroidery but decorated with green triangles at the waist and along the basting; this skirt is called the zagalejo. This costume was for daily use, at home, but when the woman went out she put over these two skirts a kind of underskirt of white poplin decorated with frills, braid and ribbon, and then covered it with a new skirt of flowered organdie, with adornments on the back.
In the back this skirt had a little train made of the same material, a memento of the well-known flamenco dresses worn by Spanish women. These last two garments were tied up and back by the galereñas in order for them to be able to work more easily in the mines. They wore long drawers that went to the knee, decorated with frills, braid, ribbon and with semi-openwork on the legs. Brogues on the feet completed the lower part of the outfit.
Back and breast were covered with a white blouse with a square, embroidered neckline. The sleeves were short and also embroidered. Over the blouse the galereña placed a beaded shawl and bright-coloured necklaces. Our galereña covered her neck with a large scarf of striking colours and protected her arms with sleeve covers to avoid burns while working on the ovens in the mine, the same reason she wore a hat made from palm leaves. The galereña usually completed her outfit with typical adornments such as colourful combs, ribbons in her braids and her hair in extravagant buns, bracelets, earrings, etc. Among her tools she would also carry a wooden pan to pick up pieces of grey stone that for the novice might be only "stones" but that she, with her vast experience in the work, knew bore hidden inside them that fabulous metal so sought after for its rarity, beauty and great value.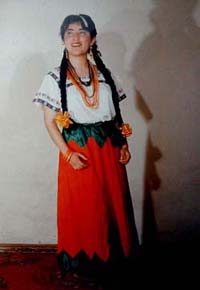 It became so common to see these women dressed in their typical costume on their way to work that today everyone in Guanajuato holds the costume of the "Galereña" in high esteem.