El Escorial Guide
San Lorenzo de El Escorial, 49 Km from Madrid by road and 1,000 mts. above sea level, is one of the former royal residences and owes its universal fame to the famous Monastery which was built in there by King Felipe II. Today, it has a countless number of attractions that make it well worth a visit.
The renowned Monastery of San Lorenzo el Real gives an overall impression of grandeur and austerity that has never been equalled. Its granite is the work of Juan Bautista from Toledo and Juan de Herrera. On the façade of the Basilica stand the statues of six kings of Judah (Josaphat, Hezequah, David, Solomon, Josiah and Manasseh) created by the sculptor from Toledo Juan Bautista Monegro, who also created the main entrance to San Lorenzo.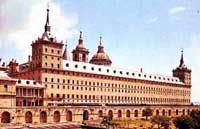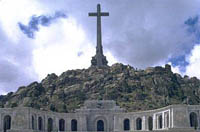 Not content with building the "eighth wonder of the world", the King took over large tracts of land in its surroundings to build the Royal Woods of San Lorenzo, in the clearings of which magnificent buildings were constructed. Afterwards, during the reign of Carlos III, the "Casita del Príncipe" was built, which is a marvelous casino-cum-museum, as well as the House of the "Infante", which lies in a splendid place. The reconstruction of the Theatre of El Coliseo of Carlos III, one of the oldest stages in Europe, has given new life to the cultural trends in the city.
A few kilometers from El Escorial, in a wild valley of the Guadarrama Sierra, on top of the ridge called La Nava, we find the monument of La Santa Cruz del Valle de los Caídos (Holy Cross of the Valley of the Fallen), whose silhouette is an unmistakable granite cross, 150m high and 46m long at the cross piece. It was built as a mausoleum for the soldiers who fell during the Civil War. It is also the burial place of General Franco. The funicular railway which runs to the base of the cross is an additional attraction for tourists.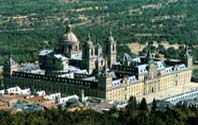 Maps of Madrid
Click here to see a full map of the city.
More towns and cities
Know more towns and cities in the community of Madrid.