Puerta de Toledo
Our itinerary begins in a popular area. The Puerta de Toledo (30) (Toledo Archway) is located in a mold district of Madrid called La Latina, which preserves the traditional flavor of the old part of the city. The archway was a project of King José Bonaparte and was built between 1817 and 1827. The Calle Gran Vía de San Francisco takes us to the Basilica de San Francisco El Grande (31) (Basilica of St. Francis the Great): a project by Francisco Cabezas dating from 1761 and finished by Sabatini at the request of CArlos III in 1776. Prestigious painters such as Goya were commissioned to decorate the interior. There is an interesting art gallery in the cloister. Next to the Basilica, we find the Capilla del Cristo de la Venerable Orden Tercera (Chapel of Christ of the Third Venerable Order); a 16th century Baroque structure with a noteworthy baldachin over the central altar.
Continuing along the Calle Bailén, we find on our left Las Vistillas, a small wooded park which provides a wonderful view of the Western part of the city with the Casa de Campo park in the background - an ideal place to enjoy the sunset from one of the terraces of the local bars. A little farther on, we cross the impressive Viaduct over the Calle Bailén, passing the Viaduct, we arrive at the interjection of the Calle Mayor, and find the former Palacio de los Duques de Uceda (32) (Palace of the Duke of Uceda) built in 1611, present site of the Madrid district Military Headquarters and the State Council.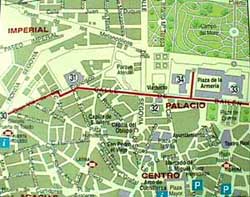 Click to Enlarge
The Palacio de Oriente usually called the Palacio Real (33) (Royal Palace) was constructed on the site of a Moorish fortrees, destroyed by fire in 1734. The first stone was placed in 1737 and the Italian architects Juan Bautista Sacchetti and Francisco Sabatini were commissioned for its construction. Opposite the main façade facing towards the South, is the Plaza de la Armería (Royal Armory Square). Circling the Palace, we access to a lovely park, the Jardines de Sabatini (Sabatini Gardens) and the sloping enclosed gardens known as the Campo del Moro. Joined to the Palace is La Almudena Cathedral (34).
The Real Armería (Royal Armory) and the Real Oficina de Farmacia (Royal Pharmacy) and Museo de Carruajes (Carriage Museum) may also be visited. The Royal Palace is not currently used as a royal residence but is used for state receptions.
Metro: Puerta de Toledo.
Maps of Madrid
Click here to see a full map of the city.
More itineraries
Know more itineraries in the community of Madrid.