Parque del Retiro
The fountain in the Plaza de Cibeles (35), surrounded by some of the city's most important monuments, has become an important symbol of Madrid.
On the Northwest corner of the Calle Alcalá, half hidden by shrubbery, we contemplate a view of the Cuartel General del Ejército (36) (Military Headquarters), nowadays the Buenavista Palace built in 1769. Across the street, we find the Palacio de Linares (Palace of Linares), presently the Casa de América (37) (House of the Americas Culture Center), a Neobaroque structure finished in 1878. On the Southeast corner is the immense Neoclassical-style Palacio de Comunicaciones (38) (Main Post Office) with its ornate stone walls, started in 1905 by architects Otamendi and Palacios.
Next to it, at Paseo del Prado number 5, we find the Museo Naval (39) (Naval Museum) which displays interesting documents and relics along with ancient and modern model-ships of the Spanish Navy. The plaza is rounded out with the head office of the Banco de España (40) (Bank of Spain) standing impassively on the Southwest corner. Started in 1891, it reflects neorenaissance tendencies. Continuing along the Calle Alcalá, we reach the impressive Puerta de Alcalá (41) (Alcalá Gateway) in the Plaza de la Independencia, which used to be the gateway to the city by the Aragón road. It was designed by the Italian architect Francisco Sabatini in 1778.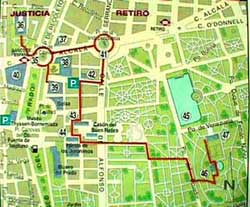 Click to Enlarge
Nearby on the Calle Montalbán, we reach the Museo de Artes Decorativas (42) (Decorative Arts Museum). On Calle Méndez Nuñez, the Museo del Ejército (43) (Army Museum) and on Calle Felipe IV, we can find the Real Academia Real de la Lengua (44) (Royal Academia of the Spanish Language).
There are several entrances to the Parque del Retiro (45) (Retiro Park): Calle Alfonso XII, Calle Alcalá, Plaza de la Independencia and Avenida Menéndez Pelayo. What we know today as the Retiro Park partly formed by gardens, palaces and dwelling houses constructed for royal use by order of Felipe IV, inaugurated in the fall of 1632. Inside the park, we can admire the Palacio de Cristal (46) (Crystal Palace), a large greenhouse made out of iron and glass and the Palacio Velázquez (47) (Velázquez Palace), both built at the end of the 19th century and currently used for exhibitions.
Metro: Banco de España.
Maps of Madrid
Click here to see a full map of the city.
More itineraries
Know more itineraries in the community of Madrid.