Madrid's Sports
Madrid is one of the capitals best equipped for the keen golfer. It has courses located in beautiful countryside and excellently conditioned. Perhaps special mention should be made of the courses of the Real Club de Puerta de Hierro (where polo can also be played), a 36-hole course located 4 kilometers from the capital, and the one belonging to the Club de Campo Villa de Madrid, also four kilometers from Madrid.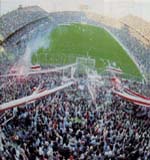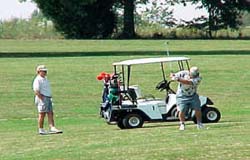 Both have played host to the most important international championships. The other golf courses are: that of the Club Jarama Race, with 18 holes, magnificently located with the Monastery of El Escorial in the background; the Club de Golf Lomas-Bosque in Villaviciosa de Odón; the Nuevo Club de Golf de Madrid in Las Matas; the Campo de Golf of Somosaguas; that of La Moreleja, designed by the famous American player, Jack Nicklaus; that of Valdeaguila and that of the Central Deportivo del Barberán with 9 holes, ten kilometers from Madrid.
Horse riding is widely practised in Spain. The Hipódromo de La Zarzuela is the scene of many international competitions. Jumping contests are held in the grounds of the Club of Campo and are attended by the most renowned international specialists. There are also many riding academies where, for a moderate fee, amateurs may enjoy a ride on horseback. Likewise, tennis fans will find fine courts to practice this sport in Madrid. For those who prefer pigeon shooting, the Club de Campo, where international competitions are held, offers its superb facilities. Car racing is suitably accommodated at the Jarama track where clocked trials are held for the World Championship.