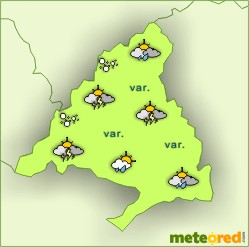 Weather in Madrid today Monday, December 18, 2017
News about the weather
The following represent descriptions of the average behavior of the seasons, plus some advice on suitable clothing. Bear in mind always that Madrid is basically a dry city, rain is rare, and high heat levels are often not as oppressive as one might think due to the low humidity, particularly at the beginning of the summer:
Winter (December to middle march):
Though cold, winter in Madrid is usually quite dry, and for those not looking for sun-tanning weather it can be a very refreshing time of the year to visit the city. It occassionally snows in the center, but it rarely accumulates. While there is certainly no shortage of activity in the city, there are far less tourisst than at other times of the year, resulting in smaller crowds at museums and other tourist centers, off-season rates at hotels etc. It is worth keeping in mind that the temperatures at night can go well below zero so make sure you get a room with proper heating.
SUITABLE CLOTHING: You'll want warm clothes, including sweaters, as heating is not guaranteed in many places. Though rain is relatively infrequent it can by no means be ruled out. A water-resistant jacket and umbrella should suffice, and a pair of heavy shoes or lightweight boots that don't mind getting wet are advisable.
Spring (middle march through may):
Spring is one of the most pleasant times of the year to visit Madrid. The long days are generally warm and the nights cool. The nightlife goes up a notch, as the warmth seems to get the blood (and beer) flowing. Large numbers of young people take to the streets for the all-night 'marcha' and all the outdoor cafes open up. During Holy week ('Semana Santa', the week leading up to Easter) Madrid is usually fairly quiet as the Madrid masses head to the south for the processions and the year's first sun-tan. Rain is not uncommon at this time of the year, and days are often quite windy.
SUITABLE CLOTHING: You will have to allow for a range of temperature. Its very unlikely to get very cold, but it can get quite chilly at night, particularly if you go outside the center. At mid day the temperature can easily rise to short sleeve temperatures. Rain gear is recommended, as is a jacket to break the wind.
Summer (june throungh august):
Temperature-wise, Madrid's summer should really be divided into two sections; the pleasant summer and very-hot-summer. The former may or may not last all through June, and then begins again in mid to late August. This is a good time of the year to visit Madrid, especially to enjoy the long warm nights in June, when the street life is at its best. In July and through most of August, the city simply gets very hot, with temperature frequently touching into the 40's (over 100 Fahrenheit). The real problem with this time of the year in Madrid is that it doesn't cool down very much at night, making sleeping uncomfortable for those without air-conditioning. An important summer phenomenon is that in August the locals pour out of the city en-masse. Many people like it in Madrid this time of year, as the city has much less traffic (its actually possible to find a parking spot!), the mood is quiet, many restaurants and shops are closed, but the ones that are open are likely to be much less busy than normal. If you like to have 'the city to yourself', then August may be the time for you to visit. If you're lucky, the cooler weather will return sooner rather than later. Rain is infrequent but there are the occasional summer storms.
SUITABLE CLOTHING: Short- sleeved shirts, shorts, sun glasses, hats to keep the sun off your head. Sandals are a very good idea, and Madrid is a good place to buy them. Sun cream if you are of fair complexion.
Autumn (september september through november):
Like spring, autumn is an excellent time for a visit. The city's mood is quite different as everyone has recently returned to work or school after the August holidays, the temperature is very pleasant with people relieved that the intense July sun is behind them. There are also plently of cultural activities going on. Late in autumn there is always the risk of some rain, but its rarely so much that an umbrella can't cope.
SUITABLE CLOTHING: Like spring you have to bring clothes for a range of temperatures. Its unlikely to get so cold that a decent sweater can't cope though. Obviously the later in Autumn you go the cooler it gets.
Temperatures:
Here we have the average temperatures in each month in Madrid capital:
January: 9 ºC
February: 11ºC
March: 15ºC
April: 19 ºC
May: 22 ºC
June: 27 ºC
July: 31 ºC
August: 32 ºC
September: 25ºC
October: 18ºC
November: 13 ºC
December: 9 ºC