Oaxaca Archaeology Trips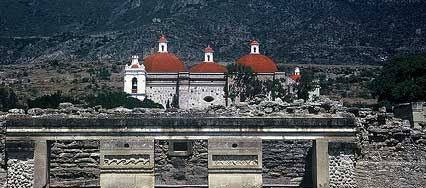 The Spanish church built on top of Mixtec/Zapotec ruins, Mitla
Mitla
One possible archeology trip from Oaxaca is the "Place of the Dead" or, properly, "San Pablo de Villa Mitla." The Zapotecs first settled in the area of Mitla over 10,000 years ago. Just 46 km from the capital, Mitla's main archeological site was inhabited by Zapotec priests from the 2nd to 7th centuries, A.D. Although Mitla was neither a grandiose nor powerful city, it remains a place of great beauty. Many of the ancient ceremonial buildings Mitla are adorned with unique, rare geometric mosaics.
Zaachila
An archeology trip to Zaachila is just a 15 kilometers drive south of the city of Oaxaca. Nobody is quite sure of the history behind this city's ruins, also known as "Zaachila Yoo." Some say the Zaachila flourished from the 12th century to the middle of the 16th, while others maintain that the site was founded around 1399. Unlike other sites in Oaxaca, Zaachila has yet to be fully explored. It is only partially excavated.
If you take an archeology trip to Zaachila, try to plan it for a Thursday and you'll enjoy the local market. The city's artesans specialize in black clay pottery. Zaachila is also a great place to try typical Oaxacan dishes.
Monte Albán
Monte Albán is the largest, most famous archaeological site in all of Oaxaca. Considered the undisputed center of activity in pre-hispanic times, Monte Albán was held a grand plaza, observatory, palaces, tombs, and temples. The site was founded around 500 BC and flourished until 750 BC. Located about 6 miles west of the city of Oaxaca, Monte Albán was also the center of political, economic and ideological control over all the valleys and surrounding mountains during that time.