Baseball in Oaxaca, Mexico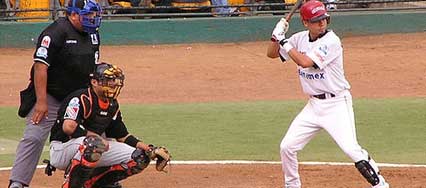 Guerreros vs. Tigres
Mention baseball in Oaxaca and the first thing that comes to mind are the Guerreros de Oaxaca -- the Oaxaca Warriors. Legends of the Mexican Baseball League's Southern Division, the Guerreros de Oaxaca moved their central operations from Jalisco to Oaxaca city in 1996. Today, they play at the Eduardo Vasconcelos stadium just 15 blocks northwest of the Zocalo. This grand, expansive stadium was first constructed during the 1950s and later renovated in 1996. Eduardo Vasconcelos is one of the few Mexican stadiums to boast artificial turf, so unlike other baseball fields, it never turns brown from the sun.
Mexican baseball season runs from March until September. Like their American counterparts, baseball in Mexico includes mascots and cheerleaders. In Oaxaca, the dancers are called the Guerreritas, the "Warriorettes," while Tato is the name of the madcap avian mascot.
The stadium offers spectators world-class baseball action, but where to sit depends on your priority. Should you want to catch the glorious Mexican sunlight, you should sit behind third base. If you want a view of the majestic mountains, sit behind first base. If it's Gurerreromania you want to catch, it would be a good idea to sit behind home plate.
Unlike games in other places, tickets for the baseball games in Oaxaca are sold on the day itself. Visitors cannot reserve seats for games happening a few days in advance. When purchasing tickets, you are also encouraged to specify your seating preference.
The park offers plenty of food choices, all of which are arguably better than the standard hot dog. Popular items include delicious chicken tacos, beef tostadas, empanadas, tamales and the tlayuda. The tlayuda is a large tortilla cooked on a gas grill and sprinkled with veggies, beans, cheese and sometimes beef.