Churches & Temples in Oaxaca, Mexico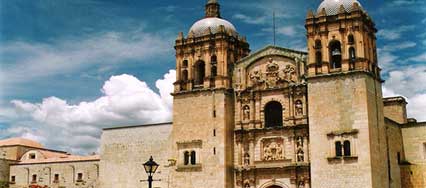 Templo de Santo Domingo in Oaxaca, Mexico.
Religion is one of the most important aspects of Oaxacan life. Nowhere is this more evident than in the city's beautiful, majestic churches, temples and convents.
The first of the Christian religious orders were the Dominicans, whose Templo de Santo Domigo is a magnificent symbol of Baroque-style architectural brilliance. It took fifty years to build and was blessed in 1708 before completion. Soldiers occupied the Temple of Santo Domingo during the Mexican War of Independence, and the structure consequently suffered significant damage. Monseñor Eulogio Gillow saw to it that the church was restored to its original glory in the late 19th century.
Another church that deserves special attention is the Basilica Menor de Soledad. Completed in the late 1600s and dedicated to Oaxaca's patroness, the Virgin of Solitude, this Oaxaca church includes a convent, a garden called the Socrates garden and the Plaza de la Danza, or the outdoor theater. On the western side of the complex is a museum stock full of religious art.
A baroque façade also greets visitors of Oaxaca's cathedral, Catedral de la Virgen de la Asunción. It holds 14 chapels inside this, the most famous dedicated to El Señor del Rayo. Constructed in the 16th century, the building was heavily damaged during the earthquakes of 1694 and 1714. It was restored soon after and a clock was added later in 1755 as a gift from the King of Spain.
Other churches to visit would be the Iglesia de San Agustín and church and former monastery of Templo de Juan de Dios, which is Oaxaca's oldest church still standing.
Another beautiful Oaxaca church is the Templo de San Felipe Neri.