Trips to Dominican Convents from Oaxaca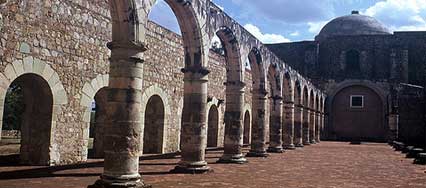 Church of the Convent of Dominico de Cuilapan, Oaxaca, México
The Dominicans were the first religious order to settle in Oaxaca when the Spanish forces arrived in the 1500s. Frays Gonzalo Lucero and Bernardino de Minaya, in particular, were the first Dominicans to arrive, establishing the order and helping the evangelical mission.
To accomplish this very heavy responsibility, they put up many churches and convents that still stand today. During the 16th century, the Dominicans built more than fifty convents and churches, the majority of which still welcome many Christians and non-Christians alike.
Dominican convents include those at Yanhuitlan, Tamazulapan, Tlacolula and Teposcolula. Historians say that these were probably designed by the same architect, and whatever differences exist can be attributed to the many local craftsmen that helped build these architectural wonders.
The Temple of Santo Domingo in Yanhuitlan is a prime example of the glory of these Dominican convents and temples. Construction of this temple started in 1541, during which Renaissance architectural elements were put in place, with a central portal and two towers. Today, this ex-convent functions mostly as a museum under the direction of the Institute of Anthropology and History.
Another Dominican Church and ex-convent worth seeing is Santa Maria de la Natividad. Here the Dominicans housed the state's most famous historic organs and a beautiful, fully-restored Baroque altarpiece dating back to the 1500s by the renowned sculptor, cabinet-maker and painter, Andres de la Concha.
Other convents can be found in Teposcolula, where visitors can find Churrigueresque-style altarpieces and intricately made sculptures in the convent of San Pedro y San Pablo. The convent, founded in the mid 1500s, was promoted to Priorate in 1553. This magnificent complex includes the temple, the cloister or the convent house and the open chapel. The latter structure is the pride of Teposcolula. Often called the Indigenous Chapel, the spectacular design recalls the Gothic and Renaissance era.