Culture in Oaxaca, Mexico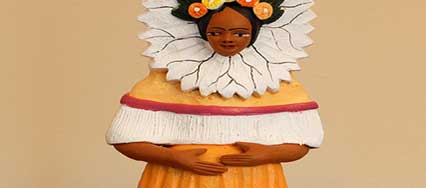 Ceramic figure of Frida Kahlo from the taller of Guillermina Aguilar of Ocotlan Oaxaca
Fascinating traditions, festive celebrations and delectable cuisines all make Oaxaca one of Mexico's most enchanting colonial cities. Indeed, elements of the many diverse ethnic groups that once dominated the area are still evident in the city's dazzling array of art, language, history and culture.
Oaxaca boasts of a wide variety of native crafts, including weaving and pottery. There are about half a million artists in Oaxaca, so it's no wonder that the area is famous for its local folk art. Perhaps the most famous of native crafts are "alebrijes", popular wooden figures of animals, mythical creatures or interesting combinations of both, and oftentimes painted in vibrant hues. These are sold all over Mexico, along with another popular native art, Oaxacan pottery.
Hand-woven rugs and other exquisite textiles have also gained quite a following, with visitors from around the world seeking these treasures as collectibles. Many villages in Oaxaca specialize in just one kind of craft, allowing the specialized knowledge to be preserved from one generation to another.
Affectionately called the "Land of Seven Moles", Oaxaca is also home to a unique brand of food. Try delicious fare such as tamales, mole dishes and the famous Oaxacan cheese. Another specialty, available only in Oaxaca, are "huevos oaxaqueños," eggs poached in chili-tomato soup. Not to be missed is the mescal, an alcoholic drink made from the maguey plant. Another unusual delicacy is the chapulines, which is a dish made from barbecued grasshoppers. Oaxaca is also famous for its chocolate, which is prepared from ground cacao beans and oftentimes includes cinnamon, almonds and other ingredients.
On leisurely days, most people hang out by the Zocalo, the main square. The cafes that line the sidewalks are a favorite spot of locals and tourists alike. Here you can enjoy concerts, fireworks displays, or simply lounge around and view the daily life in Oaxaca.
At other times of the year, people can partake of the city's colorful festivals, such as the Guelaguetza in July and Night of the Radishes in December.
Indeed, judging from the city's vibrant culture, one can easily understand why Oaxaca is often referred to as "The Real Mexico".