Day of the Dead in Oaxaca, Mexico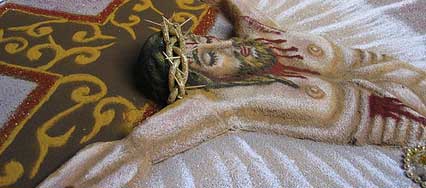 Sand painting in the day of the dead
Many cultures may find it difficult to imagine how death and celebration can go hand in hand. Not in Mexico!
While Oaxaca is a place that's simply bursting with life, Oaxacans also set aside two days during the year to celebrate their dead. The Day of the Dead, in Spanish "El Día de los Muertos", is held on November 1st (All Saints Day) and November 2nd (All Souls Day). Mexicans believe that the souls of their dead loved ones return each year to visit them, or simply to just, eat drink and be merry.
The living relatives prepare the loved one's favorite food and drinks and even take out their personal belongings for the occasion. These are placed lovingly on the altar, along with a glass of water, as Oaxacans believe that their dead are "tired from their long journey home." Flowers, especially the zempasuchi, which is a special kind of marigold, and candles are brought to the graves to guide the spirits back to their loved ones. Other kinds of offerings include the pan de muerto, which is a cake decorated with meringues resembling bones, skull-shaped candies and sweets, papier mache skulls and other figures that resemble the concept of death. These macabre gifts are often in stores as early as October. During this festival, the graves as well as the homes are decorated in the same way.
As it is, commemorating deceased children and adults take place on separate days. The day from noon of October 31st to noon of November 1st is reserved for children, while noon of November 1st to November 2nd is devoted for adults.
Mexicans do indeed grieve for their deceased loved ones, but they also recognize that their loved ones are in a better place now, free from the problems of this world. For that reason alone, Mexicans celebrate their dead in a happy, joyous occasion.