Festivals & Special Events in Oaxaca, Mexico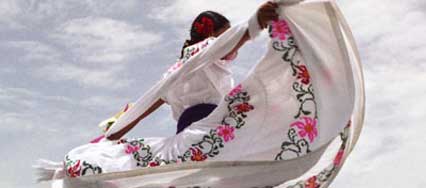 Guelaguetza
Oaxaca celebrates festivities during almost every season of the year. Some of the most prominent are:
Guelaguetza
One of the grandest, most important Oaxaca festivals is called the Guelaguetza, which is held in the month of July. Also called "Las Fiestas del Lunes del Cerro" ("Festival of the Monday on the Hill"), Guelaguetza has both indigenous and Spanish colonial roots.
Read more: Guelaguetza
The Night of the Radishes
Another highly anticipated celebration is the Night of the Radishes, which takes place during December. Locals and even tourists gather in the Oaxaca Zocalo touting their largest homegrown radishes. These radishes have been carved into amazing sculptures of all shapes and sizes in great displays of creativity and ingenuity. Street vendors sell delicious "buñuelos," a sort of sweet, fried dough puff. Oaxacan custom says that after you've eaten, you must ceremoniously throw your plate high into air so that it may fall and break. The next day is full of parades, grand fiestas, and Christmas dinners marked by fireworks displays and colorful floats.
Read more: Night of the Radishes
Day of the Dead
Oaxacans also have their version of Halloween, in the form of Day of the Dead. This unique celebration is held during the first two days of November. Many believe that the souls of the dead come back on this happy and special occasion to visit their loved ones. Families of the dead visit cemeteries, bringing along their dead relatives' favorite meals and drinks. Oaxacans believe that death should be celebrated along with life.
Read more: Day of the Dead
Other Oaxaca Festivals
Other festivals include the Candlemas, or la Candelarias, when people dress up their statues of the Baby Jesus to be blessed in memory of the Presentation of Jesus in the Temple, which is an important occasion in the Catholic faith. There is also the celebration for the Virgin of Solitude, held every year on December 18.