The Guelaguetza Festival in Oaxaca, Mexico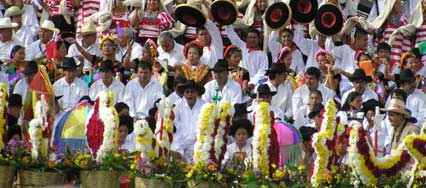 Guelaguetza, Oaxaca
Oaxaca's most significant festival is the Guelaguetza, held in July. Guelaguetza, which comes from the Zapotec word meaning "present" or "mutual offering", is one of the largest folklore festivals in all the Americas.
Like many Latin American festivals, the Guelaguetza evolved from a mix of indigenous and colonial influences. The festival's native roots are tied to the Mixtec tradition of worshipping Centeotl, the Goddess of Corn, at a special site at the skirts of a hill priorly called "Bella Vista".
Upon their arrival in the mid 16th century, the Spaniards forbade all idolotrous activities and replaced Centeotl's temple with a Catholic church in honor of the Virgen del Carmen. First, traditional Corpus Christi processions would be held on a Monday in July, and the following Monday next families would collect flowers to offer to the Virgen. For this reason, the festival is also known as "Los Lunes del Cerro", meaning the "Mondays of the Hill".
Festivities grew more and more elaborate over the years as representatives of the 7 traditional Oaxacan regions would come display their own typical music and dance in special garb during the week between these two Mondays. Thus the name "Guelaguetza": each region "offers" their vibrant customs as a gift to each other.
During the Guelaguetza, parades, popular dances and music commemorate the struggle of the indigenous people against the Spanish conquerors. At the end of each dance, the village gives away samples of its homegrown products to the audience. Audiences partake of such treats as trompadas, pepitorias, gollorias, and turrones which can also be bought from vendors at the stalls.
At night, the auditorium built specifically for the Guelaguetza fills up once again. Spectators watch a restaging of the founding of Oaxaca, a story filled with beautiful princesses and valiant warriors. Such pride in their history is reflected in their spectacular festivals. The Guelaguetza, indeed, is no exception.