Hiking, Biking & More in Oaxaca, Mexico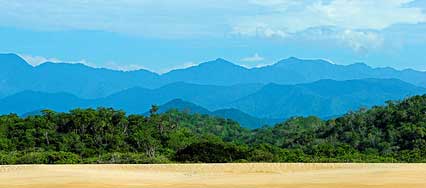 A beautiful beach in Huatulco
An exciting sport to try out in Oaxaca is trekking or mountain hiking in the Northern Sierra. Considered one of the best preserved natural regions in Mexico, the Northern Sierra offers guests the chance to go on mountain-biking trips and hikes along scenic routes that include ancient ruins, lush jungles and forests. You can also find spots for rappelling, rock climbing and fishing.
Another favorite destination of sports enthusiasts is the Mixtec region. This area is dotted with mountain roads and marked by waterfalls, caves and canyons which make it a perfect site for hikers, bikers or just the usual day trippers. Guests can visit the Santiago Apoala, which is a grotto housing wide galleries, two giant boulders measuring 300 meters high, a river of the most exquisite blue hue, waterfalls and a beautiful natural swimming pool.
The region of Huatulco also offers one of the best places for active sports pursuits. Located along the coast of Oaxaca, Huatulco stretches 22 miles along the Pacific Ocean between the rivers of the Coyula and Copalito. Huatulco is home to 9 bays and 36 beaches within the Huatulco National Park. The area is also home to valleys, mountains and slopes, as well as magnificent landscapes and land formations. For adventure seekers, there is rafting and kayaking in the waves of La Bocana or in the open sea itself, where one can cruise alongside the dolphins or whales making their migratory journey. Other thrill-seekers can enjoy hiking in Huatulco's National Park or in Punta Celeste's majestic archaeological ruins. Hikers can also traverse The Coyote Beach in San Agustin Bay and rock climb in any of its beautiful waterfalls.