Markets in Oaxaca, Mexico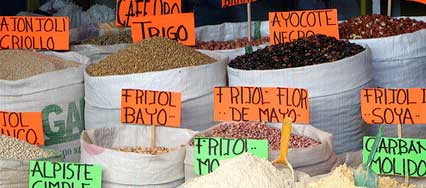 Mercado de Alabastros in Oaxaca, México
It has been said that the path to the real Oaxaca runs through its markets and kitchens. Indeed, Oaxaca's traditional markets are the city's heart and soul. Oaxaca has three main markets, all conveniently located within a 30-mile radius of the capital city.
The Mercado de Abastos, the "Market of Goods/Supplies", is often touted as the ultimate in traditional Mexican markets. Situated near the second class bus station, the Mercado de Abastos stretches across several blocks. Lose yourself through aisles with everything from lace underwear, red and green chili peppers, exotic talismans and live chickens, to electronics, furniture and just about anything else you could imagine. Of special interest are the stalls that sell chocolate, woven crafts, basketry, baked bread and embroidered clothing. This Oaxaca market's sights and sounds truly transport you to other time and place.
An older and more central market is the Mercado Benito Juarez. Located just one block south of the Zocalo, this daily market is full of flowers, food, produce and a huge arena devoted to crafts and other similar products. Although much smaller than the Abastos Market, it still offers a sizable assortment of items that are sure to tickle the shopper's fancy.
The third fantastic Oaxacan market is the Mercado de Artesanias, the Artisan's Market. Situated on the corner of Zaragoza and J.P. Garcia streets, this market has a hidden, serene atmosphere. It offers a sizable number of arts and crafts and is often considered city's the mecca for textiles and woven masterpieces.
Other markets include La Merced, which sells mostly food, and the Sanchez Pascua Market, which is located along Porfirio Diaz between Cosijpi and Quetzalcoatl.