Monte Albán Ruins in Oaxaca, Mexico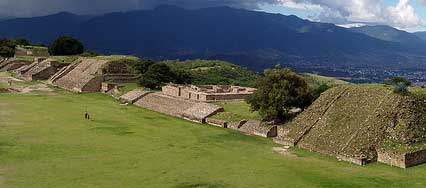 Monte Albán, Oaxaca
The most important archaeological site in the state of Oaxaca is Monte Albán. A Zapotec archaeological zone, the Monte Albán ruins are considered the most significant representatation of Meso-American cultures in the whole region. Located at the top of a high mountain west of Oaxaca city, this Pre-Hispanic settlement rises above 6,000 feet above sea level, with a perfect view of the Oaxacan valleys.
It is not yet quite known where the name Monte Albán came from. The descendants of the Zapotecs say that the hill on which Monte Albán stands used to be known as Dhauya quch, or Dauyacach, which translates to "Hill of the Precious Stones." Some Mixtecos however, named it Yucucui which means "Green Hill". Since the 1600s, it has been known as Monte Albán, as the land once belonged to a Spanish Lord named Montalbán.
Monte Albán was constructed by the Zapotecs in around 500 B.C. At its peak, the city was home to nearly 25,000 people, with an additional 100,000 living in the valleys situated below. For reasons unknown, the city was abandoned after its golden age, around 600 A.D. At this time, the Mitla began to dominate the region. It was also during this period that the Mixtecs began using the buildings at Monte Alban as tombs for their deceased. As such, all the treasures found in the tombs are Mixtec, rather than Zapotec.
Monte Alban is centered around the Grand Plaza. Two smaller pyramids mark its southern end. On the west side, hundreds of relief panels that depict macabre pictures of naked men in contorted positions were discovered by archaeologists. Some believe these are dancers, while others say these depictions represent captives offered as human sacrifices.
On the north side of the plaza sits the largest structure at Monte Alban: a wide staircase that leads to the North Platform. Beyond this lay many more lavish tombs, presently closed to the public due to damage from an earthquake. These contain colorful frescoes and masks of Zapotec gods adorning the walls of the tombs.