Oaxaca Museums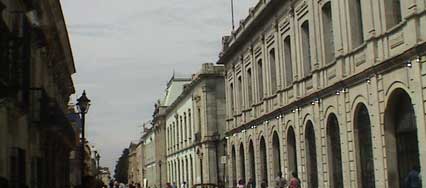 Oaxaca Museum of Contemporary Art instalation
To this day, Oaxaca holds one of the richest and most diverse concentrations of ethnic groups in the world, totalling 16, each with their own languages and dialects. A great way to get to know the incredible variety of Oaxacan cultures is to visit the city's many museums and art galleries. A visit to Oaxaca would be incomplete without seeing the city's many unique artifacts and artistic treasures.
Here are just a few highlights:
Oaxaca Museum of Contemporary Art (MACO)
If you're interested in modern art, stop by the Oaxaca Museum of Contemporary Art (MACO). This Oaxaca museum houses permanent exhibits of such prominent local artists as Francisco Toledo, Rodolfo Morales, Rodolfo Nieto and Rufino Tamayo. Aside from paintings, the MACO also holds books on Mexican arts and culture, as well as monographs, magazines and postcards.
Museo de Arte Contemporaneo de Oaxaca (MACO)
Calle de Alcalá, 202
Tel 01 951 514 10 55
www.museomaco.com
Oaxaca Institute of Graphic Arts (IAGO)
The Institute of Graphic Arts of Oaxaca, or IAGO, is both museum & library, home to about 10,000 volumes on everything from art and archaeology to photography and design. Founded in 1989 by one of Mexico's most important contemporary artists, Francisco Toledo, IAGO also holds a permanent collection of more than five thousand graphic works and its bookshop sells hard-to-find publications.
This Oaxaca museum is set in a restored colonial house from the 18th century with a typical central patio to enjoy on sunny days. Here you'll also find a cafe and restaurant serving typical Oaxacan dishes.
Instituto de artes gráficas de Oaxaca
Calle de Macedonio Alcalá, 507
Tel 01 951 516 20 45
Regional Museum of the State of Oaxaca
Another spectacular museum is the The Regional Museum of the State of Oaxaca, located in the former convent of Santo Domingo. Its grandiose fresco walls and majestic stairways make it one of the most beautiful museums in all of Oaxaca. It also boasts excellent collections of pieces that cover the period from nomadic hunters to pre-Hispanic civilizations, as well as selections of gold jewelry found at Oaxaca ruins such as Monte Alban.
Museo regional del Estado de Oaxaca
Gurrión at Alcalá
Tel 01 951 516 29 91