Night of the Radishes Festival in Oaxaca, Mexico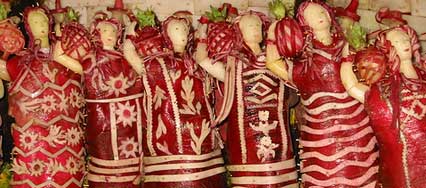 La noche de los rábanos is one of the most unique folk art festivals in the world and takes place every December 23rd in Oaxaca, Mexico.
While Americans have pumpkins for Halloween, Oaxacans have the radish for Christmas!
The Night of the Radishes is one of the most anticipated celebrations in Oaxaca. Every year, the humble radish is carved into beautiful, intricate sculptures of animals, dancers, saints, conquerors, kings and everything else imaginable. Once Oaxaca's radish-artists are done with this vegetable, it barely resembles something you might eat at the dinner table.
Nobody really knows how this festival started, although it is believed to have originated in 1897, when the then mayor of the city started the first exhibition of radish art. In the last century, markets during Christmas eve sold salt-dried fish and vegetables for customers coming out of the midnight mass. To differentiate the items from one another, vendors sculpted their radishes into tiny figures, sometimes even decorating them with other vegetables such as onions or lettuce. The radishes seemed to be a hit with the housewives then, as these women sought out the most interesting sculptures to add to the air of cheer to their Christmas tables. Every year since the first exhibition, the best displays receive cash prizes.
Radish artists begin carving three days before the festival, which is held on December 23. Children are taught this unique craft on the morning of the festival itself. By the afternoon of the festival, the Zocalo is filled with contestants all eager to display their fabulous sculptures. Over time, some artists started toying with other vegetables such as flowers or corn husks for their masterpieces.
By nighttime on the 23rd, the winners are announced but the celebrations are not yet over. Come December 24, the Zocalo comes to life again, this time with parades of floats designed by the many different churches in Oaxaca.
On the 25th, there is another grand fiesta filled with fireworks, music, dancing and the traditional Christmas dinner.