Oaxaca Nightlife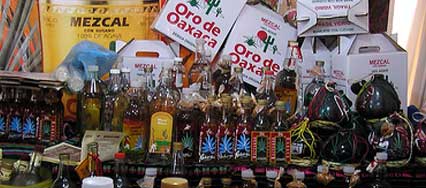 A typical strong spirit from the State of Oaxaca.
Sultry jazz bars, all-night dancing, local festivals: all these characterize Oaxaca's vibrant nightlife. When the sun sets in Oaxaca, the party's just about to start.
Should you wish to just sit back and enjoy a cold beer or a glass of wine to the tune of jazzy music, head to the "Nueva Babel" jazz bar. "Bar y Cafe Jardin" also offers mescal, Oaxaca's traditional drink, while guests groove to marimba sonatas.
If you're looking for a fiery night of dancing, then go to "Candela," located at Murguia Street, "La Tentacion," just a few blocks west, or "El Sagrario," located at 120 Valdivieso. For those who would rather groove to techno music, there are plenty of bars to choose from, such as the "Tapas and Pisto Bar " and "High" in Colonia Reforma.
Those whose preferences lean more toward the artistic side can find a haven in "The Central," which often hosts live music acts, independent movies and occassional art exhibits of renowned and up-and-coming artists.
Rockers, too, can find their scene at "Divina Bar," located at 104 Gurrion street. Eclectic music fanatics can head off to "Casa del Mezcal," "La Farola" or the "Freebar" at Matamoros.
Finding entertainment in Oaxaca is easy. There are always live musical performances on the streets, especially in the Zocalo.