Parks & Gardens in Oaxaca, Mexico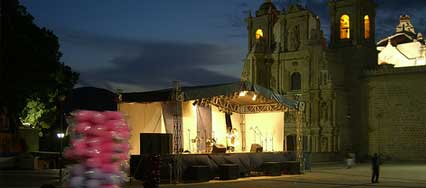 Concert in Plaza de la Danza
Whether lounging around on a lazy Sunday afternoon, attending a religious festival or participating in a political protest, Oaxaca's parks and gardens host all sorts of lively activities.
Located one block west and six blocks north of the zocalo is the Paseo Juarez "El Llano" Park. Dedicated to native President Benito Juarez, this is also one of the oldest and largest parks in Oaxaca. Some notable trees include the tree planted by General Jose Maria Morelos in the winter of 1812-1813. In 1894, more trees were planted here and a monument to Benito Juarez was erected, which still stands to this day. This Oaxaca park additionally housed a zoo from the mid 1900s to 1970.
Today, "El Llano" park contains gardens, benches, walkways and four large fountains. A great day to visit this Oaxaca park is December 12, when families and friends join to celebrate the Virgen of Guadalupe at the Guadalupe Sanctuary.
The "Plaza de la Danza" (Dancing Square) and "Jardín Socrates" (Socrates Garden) are also must-sees. You can find them close, as they form part of the complex of belong to the Oaxaca churches of San José & Soledad. The Socrates Garden, formerly the Church of Soledad's main plaza, was converted into a public garden in 1881. The Plaza de la Danza was later built by Eduardo Vasconcelos in 1959 as an upper terrace; the area is connected by elegant stairs.
During the Gualaguetza festival, the Plaza de la Danza hosts the "Bani Stui Gulal," or "repetition of antiquity". This is a celebration that represents the history of the Guelaguetza in its many different historical periods.
Other equally enchanting parks are the Ethnobotanical Garden which surrounds the former monastery of Santo Domingo, the Cerro de Fortin and the Parque Communal de San Felipe.