Oaxacan Pottery & Other Crafts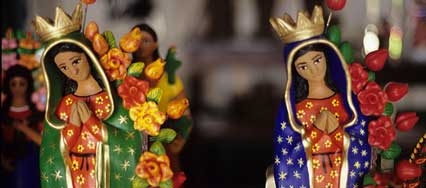 Two ceramic Virgins of Guadalupe
The artisan tradition is alive and well in Oaxaca, thriving in the form of pottery, sculpture, textiles, jewelry and other kinds of handicrafts.
One of the most striking examples of Oaxacan ingenuity comes in the form of their textiles. For centuries, artisans have used fabrics, wool and natural colorants to generate exquisite blouses, shawls and skirts.
Another shining example is the alebrijes, which are representations of animals made out of wood and painted in bright, cheerful colors. Each piece is signed by the artist because as it is one of a kind and unrepeatable. The original creator of this art form is Manuel Jimenez, an artisan from the town of Arrazola. Among the many alebrije artisans that have achieved both local and international prominence are Arsenio and Irene Morales, Claudio Ojeda, Alvaro Obregon, Jose Santiago and Miguel Ramirez.
Pottery is another a traditional Oaxacan craft. There are two main techniques that Oaxacan potters utilize: the black ceramic from San Bartolo Coyotepec and the green glazed pottery clay from Atzompa. In fact, Atzompa is considered one of the great pottery villages in all of Oaxaca, producing excellent decorative and functional pottery such as pitchers, candle holders, jars and vases. For other interesting and unusual forms of pottery, visitors can head to the region of Isthmus. In the town of Ixtaltepec, for example, potters make water coolers in the form of a tall lady out of clay. Others make flowers pots, plates and barrel-shaped pots used for frying tortillas.
Jewelry making has been prominent in Oaxaca since colonial times, and traditional techniques and tools are still widespread.