Puerto Escondido & Other Beaches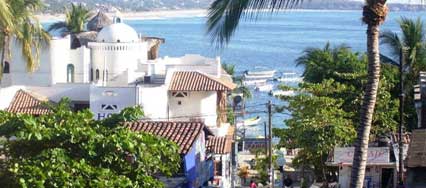 View of Puerto Escondido, Oaxaca
Oaxaca's beautiful beaches can easily and effortlessly rival those of its world-famous counterparts, and the fact that they're not overrun by tourists makes them all the more attractive. The state of Oaxaca boasts a 342-mile coastline stretching along the Mexican Pacific, divided between the districts of Juchitan, Pochutla and the Jamiltepec.
Oaxaca enjoys almost perfect weather all year round, so you can pretty much count on fine and sunny weather for your trip. Oaxaca's beaches, with their fine, white sand, also give visitors privacy and intimacy, two essential elements for complete relaxation.
One of Oaxaca's nicest bays is Puerto Escondido, the "Hidden Port". It is located about 200 miles south of Acapulco, and unlike other resorts, Puerto Escondido is a real Mexican coastal town.
Originally established as a port for shipping coffee in 1928, Puerto Escondido is now home to people from all walks of life, from vacationers, surfers and beach combers to fishermen and expatriots. Its two main beaches, Zicatela and Playa Principal, are recognized as world-class surfing destinations. Although not as high-end as Huatulco, the sprawling beaches of Puerto Escondido still make the perfect getaway from the hustle and bustle of city life.
Huatulco and its nine beautiful bays are also somewhat legendary in and around Oaxaca. Some believe that the god Quetzalcoatl himself visited the inhabitants of Huatulco to hand down his legacy, a Holy Cross made entirely of wood. Settled in around 900 A.D. by one of that period's most prominent groups, the Zapotecs, Huatulco was witnessed countless battles and conquests involving groups vying for primacy in the area.
Aside from its magnificent blue bays, Huatulco is home to luxurious hotels with many organized leisure activities such as golf, tennis and water sports.
Indeed, their beautiful blue waters and spectacular sunsets make Oaxaca's beaches a favorite, both locally and internationally.