Shopping in Oaxaca, Mexico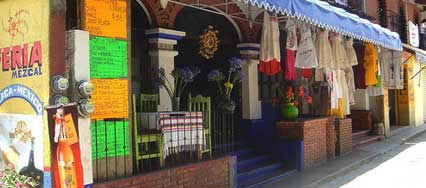 Shops in Oaxaca
A true Oaxacan shopping experience has nothing to do with high-end malls or franchises. Instead, you're better off seeking one-of-a-kind treasures at open air markets or small boutiques and jewelry stores.
Oaxaca boasts a rich, diverse history and culture dating back several thousand years. Nowehere is this more evident than in the city's original hand-made arts & crafts sold on just about every corner. Key specialties are black pottery and "alebrijes", intricately carved wooden sculptures painted in a vibrant, colorful hues.
Almost every town in Oaxaca has a market day where a great variety of handicrafts, jewelry, clothing, meats and vegetables are sold. Some notable markets include the Benito Juarez market, the Abastos Market and the Mercado de Artesanias.
Bargaining for prices is acceptable in some places in Oaxaca, such as at outdoor markets, street stands or beach vendors. It is not customary to bargain, however, in more established stores or hotel boutiques. Mexico imposes a 15% tax on most products. This isn't so bad, as Oaxacan handicrafts cost 20% to 60% less than products sold elsewhere.
The best time to go shopping in Oaxaca is during late afternoon and early evening as this is also the time when vendors start selling delicious local candies, fruits, ice-cream, corn and other culinary delights. Guests are also encouraged to rent a private car and a driver when visiting the shopping places in the villages. These are considered more comfortable and much safer, not to mention less expensive. Plus the drivers speak the local language which can help foreign guests acquaint themselves better with the local culture.