Tejate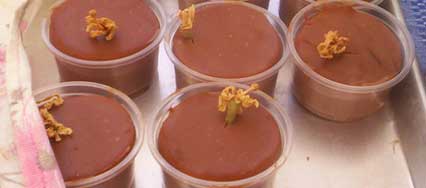 Tejate
Tejate, one of Oaxaca's best known beverages, deserves a special mention out of all the region's traditional drinks. Tejate, after all, is not just a drink. It's a work of art with a recipe spanning thousands of years of Oaxacan history.
Tejate, touted as the drink of the gods, is considered the sustenance of the family. Such a heavy responsibility lies in the hands of the women of the pueblo, who are taught to prepare the drink even before they learn how to read or write. Female hands have carried on this tradition from the time of pre-Hispanic Zapotec kings and warriors to the present day.
The principal ingredient of Tejate is "rosita de cacao", which can only be found in San Andres Huayapam. Aside from this, Tejate is also made from corn, cinnamon and the seeds and flowers of a special kind of fruit called the mamey. Women who prepare this drink are called "tejateras." In markets and fairs, the tejateras stand behind green glazed tubs armed with checkered aprons and mixing tools. Making Tejate is no easy feat. It is vital, for example, that the seeds and bowls be impeccably neat. It is not uncommon for skilled tejateras to frown upon a brew with the wrong color due to grease on the mamey seeds.
Tejate was served in intricately made, finely painted bowls in the older days, but is now scooped up in opaque plastic cups. Whereas before Tejate was made with chile de arbol, now it is sweet rather than spicy. Still, Tejate is more than just a simple drink. It captures the allure and grandeur of an agricultural past and the romanticism of fields under the harvest moon.