Oaxaca Tourism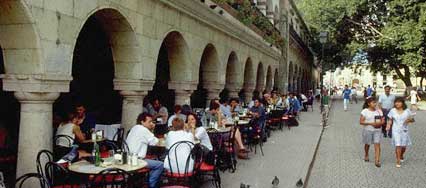 The Zocalo
Oaxaca, pronounced "wah-hah-kah," is home to many natural wonders, authentic arts & crafts and Oaxacan pottery, majestic churches and temples and breathtaking archaeology trips. Not to mention friendly, welcoming locals that will make you feel right at home.
Oaxaca tourism is as varied as visiting rugged mountains, beautiful beaches and even just the simple traditional Oaxacan markets where just about every item imaginable is sold. Indeed, tourists traveling to Oaxaca will surely find delightful surprises waiting for them at every corner.
Zocalo & Historic City Center
A good place to start a tour of Oaxaca would be in the Zocalo, the central town square. This is the center of activity and it is here where the most important celebrations and events take place. The place is lined with charming sidewalk cafes, restaurants, street vendors peddling everything from handicrafts to local cuisine, fountains and parks that make it a perfect spot for just relaxing and watching the day go by. Walking around the Zocalo and admiring colonial architecture gives the impression of being transported to another era. Surrounding this park is the Central Historical District, where other political and social events constantly unfold.
Monte Albán
Another essential place to visit are the archaeological ruins of Monte Alban, which some experts consider the first great city of the Americas. Located just west outside of the city of Oaxaca, Monte Alban was the undisputed cultural center of the Zapotecs, once one of the mightiest indigenous groups in the region.
Churches & Temples
Not to be missed are the Oaxaca churchesthat dot the city landscape. Most of the Churches were built several centuries ago and some have withstood the test of time. Those that have been destroyed by fire or earthquakes have been restored to their original splendour. The Churches of Santo Domingo and the Basilica Menor de Soledad are especially beautiful because of their Baroque exterior. Some of the churches have been converted to museums and art galleries, which now showcase Oaxaca's masterpieces.
Oaxaca Parks
Find out about Oaxaca's most prominent parks: Paseo Juarez, El Llano Park, Plaza de la Danza, Jardin Socrates…