Oaxaca´s Zocalo & Historic Center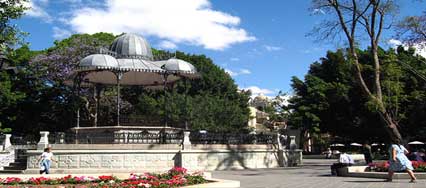 Oaxaca´s Zocalo
Oaxaca's Zocalo, the central square, is the heart of city and its undisputed center of activity. A visit to the Zocalo is a must for any visitor wishing to know more about the magic that is Oaxaca.
Zocalo means "town square," and is typically found in most Mexican cities. Oaxaca's Zocalo is similar to others in architectural design. Under Spanish rule, the zocalos served as a symbol of colonial power. Each plaza was designed with two central monuments to Spain's reigning institutions: the church and the crown. In Oaxaca, the space for the Zocalo was marked by Juan Pelaez de Berrio in 1529. Alonso Garcia Bravo used the Zocalo as his main reference point by when he planned the layout of the rest of the city.
These days, the zocalo is lined with sidewalk cafes, restaurants and shops. At every turn you'll find street vendors peddling everything from authentic Mexican cuisine to local crafts. Oaxaca's Zocalo hosts weekly concerts, and every night musicians serenade guests and locals at the local cafes with classical music and popular Mexican songs.
At the center of the Zocalo, you'll find a kiosk with small fountains surrounded by trees, an ideal place to picnic or just lounge around during the summer. Oaxaca's Zocalo is also flanked by a church and a government building, making it the ideal place for social and religious gatherings. In fact, many of the city's festivals, such as the Guelaguetza, hold events here.
Indeed, the Zocalo brings to life the soul of the Oaxaca. Tourists and guests often refer to Oaxaca as "The Real Mexico."
Surrounding Oaxaca's Zocalo is the Historico district, in Spanish, "Centro Histórico." The Centro Histórico, a UNESCO World Heritage Site since 1987, is home to many early colonial buildings. A lot of these streets are closed to traffic, allowing you to tranquilly explore the area by foot and lose yourself in the old city's elegant surroundings.