Akumal, Mexico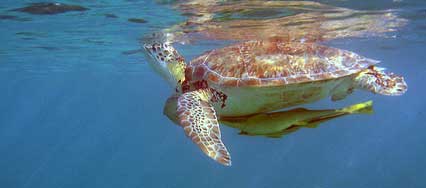 Akumal, place of turtles
Akumal, or the´place of turtles´, is a small coastal town between Playa del Carmen and Tulum in the state of Quintana Roo. Situated at the heart of the Riviera Maya, it was founded in 1958 by Mexican businessman, diver and archaeologist Pablo Bush Romero as a community for scuba divers. Although having grown and expanded since then, the town certainly hasn´t lost its soul and its relaxed atmosphere remains a major draw for visitors.
Akumal is home to three picturesque bays: the Half-Moon Bay, the greater Akumal Bay and the Aventuras Bay. The powder-white sand and crystal-clear blue waters of Half-Moon Bay and Akumal Bay are perfect for swimming and snorkeling. Sea turtles, endangered animals that dwell in warm, tropical oceans can also be seen in Akumal, as the area is a major nesting site. Turtle nesting season in the Caribbean lasts from May to November, but sadly, in recent years the number of successful sea turtle nestings has been greatly reduced. During turtle nesting time, it is not unusual to find sea turtles laying their eggs on the beaches at night. The Centro Ecologico de Akumal (CEA), a non-profit organization working towards environmental conservation with a specific focus on the protection of sea turtles, has its headquarters in Akumal.
A day in Akumal isn´t quite enough to enjoy all the wonderful things on offer. Popular activities include a visit to the Yal Ku Lagoon, a bike ride, a jungle walking tour, fishing, scuba diving or snorkeling, or even a visit to one of the famed archaelogical sites nearby. Akumal is certainly a calmer and more laid-back alternative to the hustle and bustle guaranteed in Cancun and in other more commercialized tourist destinations nearby. Rest assured that a trip to this incredible destination will be an unforgettable experience.