Playa del Carmen Bars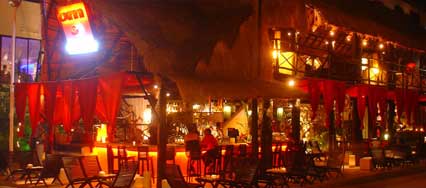 Om Lounge Nightclub
Playa del Carmen is a happening place. Some of the most popular hotspots in Playa del Carmen include:
The Blue Parrot. The Blue Parrot is definitely one of the top outdoor nightclubs in Playa del Carmen. The bar has been established for a long time. It can be found between Calle 12 and Calle 14. The place has swings by the bar, and has dancing on the beach. Live acts perform in the club, where a mixture of rock, reggae and older hits are played.
Deseo. Deseo is a favorite bar of the younger crowd. It can be found along 5th Avenue, near 12th Street. The second floor is an open-air lounge. The bar's unique aspects are the large mattresses, which allow you to relax under the stars while listening to the latest in lounge music. Silent movies are also projected on the walls of the club.
Alux. Alux is a restaurant and bar located inside a cave on Juarez Avenue. All the work in the cave passed the approval of the conservancy group of Playa del Carmen. Various musicians perform in the bar and, occasionally, you can catch belly dancing performances. The bar opens at 7 pm.
Om Lounge. Om Lounge attracts the younger generations. House music reverberates through the air. It is styled by a large Indonesian mirror and is located along 12th street.
Frida Bar. Frida Bar is an open-air club designed with pictures of Frida Khalo and Pancho Villa all over. The bar has a pool with a bridge passing over the water, palm trees, and numerous candles. Mexican bands playing rock and blues music perform in the bar.
Mambo Café. Mambo Café is located along Calle 6. The bar is popular for its salsa dances and Cuban music. The bar is also known for its balloon and foam parties.