Beach Flag System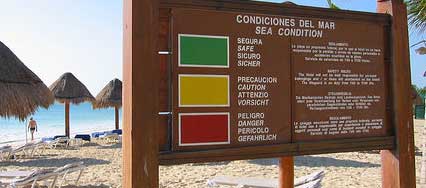 A warning sign on the beach for the water conditions
The Department of Civilian Protection of Playa del Carmen in the Mexican state of Quintana Roo has developed a beach safety advisory system to keep beach-goers informed about swimming conditions. This system is colloquially referred to as the Beach Flag System.
So how does this advisory system work? Differently colored beach flags are utilized and employed to make people aware of how the waters are. The flags indicate current safety conditions on each section of the beach. Weather conditions, tide conditions, wave conditions, and the direction of the wind are among some of factors that are to be considered when determining whether it is safe to allow people to swim or not. The beach is divided into different sections and each section is marked with a colored flag to indicate whether or not it is safe to swim in the water. The same beach flag system is also in effect in Cancun.
The different flags are colored green, yellow, red and black. The green flag is the first and the lowest warning level. This indicates that the sea conditions are normal and safe and that it is absolutely fine to swim. The yellow flag is the second warning level. This indicates that there is no immediate danger in site although the sea conditions are quite changeable and thus, caution must be exercised when swimming. The red flag is the third warning level and indicates dangerous sea conditions; extreme caution should be taken when swimming. Finally, the black flag is the highest and most dangerous warning level. This indicates very dangerous sea conditions and swimming is out of the question. It is very rare to see a green flag being utilized even if the factors mentioned above appear and normal. Thus, it is always best to be careful and to be mindful of your immediate surroundings.