Beaches in Playa del Carmen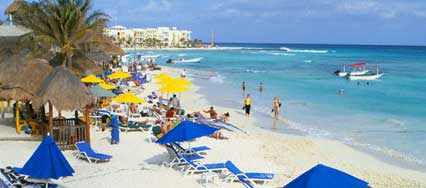 Playa del Carmen Beach
Playa del Carmen boasts some of the most pristine beaches in the Caribbean.
The beach in Playa del Carmen begins at the dock, and spreads out in both directions. As you go north, you will reach the main beach, which lies parallel to the pedestrian walkway. The main beach is frequented by international travelers and has easy access to countless beach front hotels, resorts, restaurants and shops. As you continue north, the area becomes less developed and has fewer resorts and restaurants.
The beaches of Playa del Carmen are composed of white sand. On hot days, it is recommended that you wear beach shoes, as the sand can burn your feet. Certain areas of the beach are quite rocky, and boats dock in several locations.
In certain areas of the beach, small fish and corals can be found just steps from the sand. These are nice places to snorkel in, and are located at the northern parts of Playa del Carmen.
The beaches in Playa del Carmen are generally public. However, some areas of the beach are difficult to reach because it passes through private property.
Safety is emphasized in the beaches of Playa del Carmen. Lifeguards are spread out all over the place. Several policemen also patrol the beach at certain times throughout the day. Maintenance of the beach is carried out by the local government. Beachfront resorts also help clean up the sand, removing the seaweed and burying it in the sand or having it collected along with the garbage.
Some travel guides that have been previously published state that there is a beach in Playa del Carmen that allows optional clothing, specifically in the area of Punta Bete. This information tends to attract a huge number of visitors to the area.
Nude Beaches
The truth is, there are actually no nude beaches in Playa del Carmen. In fact, sunbathing topless or in the nude is actually illegal, not only in Playa del Carmen, but in all of Mexico. Although it does not commonly occur, the Mexican police can technically arrest a person for sunbathing in public without a top on.
However, in spite of this, numerous foreigners sunbathe topless in Playa del Carmen. Plenty of travelers also sunbathe in thongs without getting into any trouble. Although some locals do not approve of it, the huge European influence in the area has made sunbathing in the nude or in skimpy outfits tolerable for most people.
If you want to go topless or nude in Playa del Carmen, there are certain areas where it is allowed. You can do it in the privacy of your own room. Also, some resorts and spas in the town have a clothing optional policy.
It is a good idea to carry a beach wrap or a cover-up with you when sunbathing, even if you are in an isolated area in Playa del Carmen. If you still want to sunbathe without any clothes on, you may try to find a remote area for nude sunbathing, where few people pass. This allows you to sunbathe naked without attracting too much attention, and avoid getting into any trouble. The locals in Playa del Carmen are quite conservative, and may find topless or nude sunbathing offensive. Try to be considerate to other people, so that you can enjoy the beach without any hassle.
More About Beaches in Playa del Carmen