Cenotes in Mexico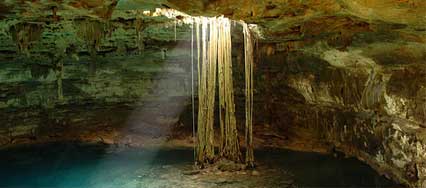 Cenotes
Cenotes are limestone sinkholes that contain transparent, fresh water. The water comes from rain showers absorbed by the ground. They have, for a very long time, been the main source of water in almost all of the Yucatan Peninsula. The Mayan people consider these cenotes to be sacred and believe that they are gifts of the gods.
There are four different types of cenotes: those that are completely underground, those that are semi-underground, those that are at land level (similar to a lake or pond), and those that are open wells. In some cenotes, people are allowed to swim and dive. Other cenotes are already dry or no longer accessible.
There are currently about six thousand discovered cenotes in Yucatan state and Quintana Roo. Many of these cenotes are easily accessible from Playa del Carmen. Cenote Crystalino is located just past Puerto Aventuras. It is a popular hangout for locals who want to spend a relaxing time. Slightly south of Cristalino is Cenote Azul. Azul is smaller in comparison to other cenotes in the area. To the south of Azul is Cenote El Jardin del Eden or Ponderosa. This cenote is a main entryway into an underground cave system and is for the most part visited by divers. Cenote Xunaan-Ha is located near Akumal. It is a small cenote hidden within a lush jungle in which swimming and snorkeling are permitted.
Cenote Dos Ojos is just to the south of El Jardin del Eden. This cenote is a favorite of divers and snorkelers because of its unparalled natural design and beauty. Located in a residential area called Tankha north of Tulum is the Cenote Manatee, or Casa Cenote. This cenote is a large lagoon with a strong current and is frequently used by cave diving instructors for their training classes. Last but definitely not the least is the Gran Cenote located just outside of Tulum. This is a very popular spot for cave divers given its unrivalled grandeur and beauty. It is the largest open air cenote in the area and is a great place for swimming and snorkeling.