Activities for Children in Playa del Carmen, Mexico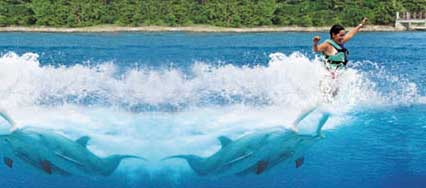 Swimming with dolphins
If you plan on traveling with children, then Playa del Carmen is the place for you, as there are endless activities that will keep young visitors happy and preoccupied.
The beach at the northern end of Playa del Carmen is child-friendly. Corals in the area form small ponds filled with little fish. Some areas along the beach are also shallow, allowing children to wade far from the shore. Children can also snorkel and occasionally see little fish and other marine life.
Resorts in Playa del Carmen usually have a playground for children. Some resorts offer golf courses and theaters showing children's films. They also offer other activities, such as dancing and ceramic painting. Resorts with kiddie pools are usually armed with lifeguards to watch over the children as they play in and around the water. They also have trustworthy staff and excellent security. You can opt to leave your children at these "kid's zones while you go about exploring the town.
Walking around 5th Avenue can also be enjoyable for the children. Aside from offering numerous souvenir items, there are plenty of stalls offering hair braiding and temporary tattoos. Most restaurants also incorporate a selection for children in their menu. The cinema in Playa del Carmen also shows children's movies that are dubbed.
Various tours can also appeal to children, including a visit to the Xaman Ha aviary and swimming with dolphins at natural eco parks.
For a more educational experience, you can also enroll your children in Spanish classes. There are a few language schools in Playa del Carmen, such as Solexico and International House. Most of these schools also offer various extracurricular activities, such as salsa dancing lessons, cooking lessons and class excursions to nearby sites of interest.
Now you don't have to spend your vacation worrying about your kids! Bring them along to Playa del Carmen!