Cozumel, Mexico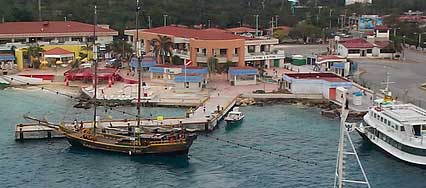 Cozumel Harbor
Cozumel is Mexico's largest island and is located in the Carribean Sea off Puerto Morelos and Playa del Carmen. It is one of the municipalities of the state of Quintana Roo and is famous to scuba divers around the world for its magnificent dive spots. The island is characterized by lush greenery, white-sand beaches, crystal clear ocean waters, lagoons and mangroves.
The island of Cozumel was considered by Jacques Cousteau as one of the best diving sites in the world. Its coral reefs, white-sand beaches, and clear blue waters provide a dwelling place for a spectacular treasure trove of marine life and the residents of Cozumel are very proud and very protective of this. In fact, the Parque Marino Nacional Arrecifes de Cozumel (or the Cozumel National Reef Marine Park) and the Parque Naturale Chankanaab (or the Chankanaab Nature Park) are only some of the place created to protect the rich and diverse marine life found in the island.
However, Cozumel is not just for scuba-divers or watersport enthusiasts. It is also the perfect place for those who are interested in exploring archaeological ruins or sites of the ancient Mayan civilization. Those that can be found here include Aguada Grande, El Cedral, El Caracol and San Gervasio. Regular tourists can enjoy the various offerings that Cozumel has in store for them. There are magnificent and well manicured golf courses, luxurious spas and resorts, delightful restaurants that serve a vast selection of seafood dishes, and quite a few bars and pubs that serve regular as well as exotic beverages.
In the past few years, Cozumel has benefited from a sudden boost in its tourism industry, which it relies mainly on. This is no doubt caused by recent developments in its air transportation service, a tremendous increase in cruise ship visits, a surge in commercial, real-estate and resort developments among others.
The best way to get to Cozumel is via direct flight from the United States. However, one can also travel by bus and ride the water jet over to the island. Passenger ferries run to Cozumel from Playa del Carmen and Puerto Morelos. The ferries from Puerto Morelos can also carry cars. Flights are available from Cancun airport as well.