Scuba Diving in Playa del Carmen, Mexico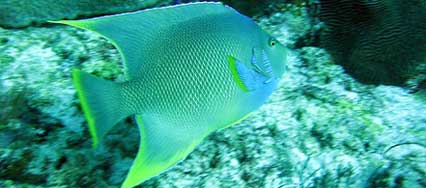 Queen Angel fish
The Caribbean Sea is home to a number of unique species of marine life, making Playa del Carmen an attractive destination for scuba diving. The presence of the Great Maya Reef, the second largest barrier reef in the world, also makes Playa del Carmen a famous reef diving site.
Ecological parks are exciting places to go scuba diving in. Nature parks typically offer reef diving and sinkhole diving to visitors. These ecological parks include Xcaret, Xel-Ha, Parque Ecologico Tres Rios and Parque Ecologico de Xpu-Ha, to name a few.
There are several dive sites along the coast of Playa del Carmen. Scuba diving in Playa del Carmen allows you to view over 500 fish species and several species of sea turtles. Occasionally, dolphins and whales can also be seen. At greater depths, caves and arches can be visualized, where sharks can sporadically appear.
Reef diving is also popular in Playa del Carmen due to the approximately 600-mile long Great Maya Reef. You can also go wreck diving and explore ancient sunken ships, such as Mama Viña.
Dive shops are scattered along the beach of Playa del Carmen and in certain hotels. Licensed instructors typically offer certification courses, known as "Open Water Certification. These certification courses, which include lectures, practice sessions, open water dives and examinations, usually take about 5 days to complete. Some dive shops also offer introductory diving courses, which take less than a day to learn. You are taught basic scuba diving skills that will allow you to go on diving tours with certified diving instructors in the Riviera Maya.
If you plan to go scuba diving, ask about Chamber Service. Usually, a scuba diver will have to pay an additional dollar and sign a form to get coverage in case of any diving accidents. Check that you are insured before diving.