Typical Drinks of Playa del Carmen, Mexico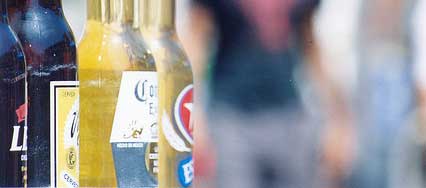 Local Mexican Brews
Mexico is well-known all over the world for its both its alcoholic and non-alcoholic drinks. Playa del Carmen is no different.
Popular non-alcoholic drinks in Playa del Carmen are fruit juices and shakes. Being a tropical beach destination, cold fruit drinks are very popular with tourists. Aguas frescas, which are flavored waters, are also popular. These are served in most restaurants in the area, especially along the beach.
As a premier beach vacation destination, Playa del Carmen is also popular for its alcoholic beverages. Generally, the cost of drinks at bars is more expensive than if you buy them at the store. Thus, some tourists opt to buy drinks at the local store and drink on the street. This is technically against the law, but as long as you don't make a scene, the police will not arrest you.
One of the most popular alcoholic drinks in Playa del Carmen is tequila. Tequila, which is a Mexican drink, is extracted form the sap of the blue agave plant. The plant can be found near the area of Tequila, Mexico. There are basically four kinds of tequila. Silver tequila has no added flavors in it, while gold tequila has an added caramel flavor. Tequila reposado has been aged for two months, while Anejo tequila has been aged for at least a year. All variants are served in Playa del Carmen.
Other popular Mexican alcoholic drinks include mezcal and pulque.
Tourist stores sell liquor. For a more complete supply, you can go to Covi Liquors in Highway 307. Liquors here are cheaper than those sold along 5th Avenue.