Extreme Sports in Playa del Carmen, Mexico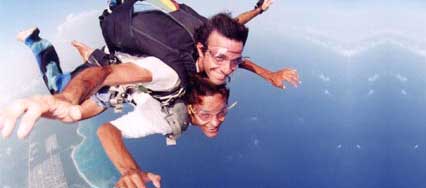 Skydiving over Playa del Carmen
Playa del Carmen is one of the top tourist destinations in the world and is the perfect place for those in need of a fun and exciting adventure. From just lounging by the beach to jumping out of a plane, there will always something for anyone and everyone to do in Playa del Carmen.
Extreme sports enthusiasts in particular will most definitely have a blast in Playa del Carmen. Scuba diving is a very popular sport here because of the inherent beauty of its coral reefs and richness of its abundant marine life. Along its coast lies the world's second biggest barrier reef (next to the Great Barrier Reef in Australia), a definite must for diving aficionados. Most of the tour operators in the area offer diving tours such as night dives, wreck dives, cavern and cave dives and more. You don't have to be a certified scuba diver right away to be able to dive here. Short diving lessons and courses are available in the area for you to choose from depending on whether you just want to try it out for fun or if you are really serious and determined to get into the sport. Skydiving is another popular sport in Playa. The magnificent view of the Caribbean and the Riviera Maya surrounding you is definitely worth jumping off a plane for. Fully-trained and licensed jumpmasters will be there to make sure that you have the most thrilling experience in the safest possible way.
Aside from scuba-diving and skydiving, there are still a lot of other extreme sport activities that you can try out when in Playa del Carmen. Kite-surfing and drift diving are fast becoming more and more popular here. There is also windsurfing, parasailing, deep-sea fishing etc. The list just is never-ending!