Playa del Carmen Ferries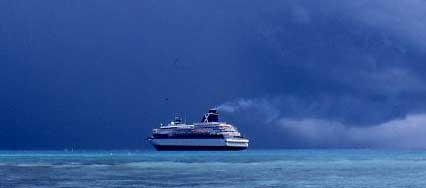 Ferry to Cozumel
Playa del Carmen was initially a fishing town, whose only visitors were those people who were passing through to get to the island of Cozumel, which is a famous location among scuba divers and snorkeling enthusiasts. Despite the economic development of the town, Playa del Carmen's ferry to Cozumel still remains a popular itinerary for tourists visiting the Riviera Maya.
Ferries from Playa del Carmen to Cozumel operate daily, offering over 20 trips back and forth throughout the day. Several companies operate various ferries to and from Cozumel. Basically, all Cozumel ferries generally have the same facilities, amenities and capabilities. Both ferry companies provide refreshments, such as juice, beer and soda, to those who ride their ferries. All ferries also have television sets; however, not all of them are working. Ticket prices are generally the same, with some ferry rides costing a dollar more or less than the usual.
A typical ferry ride from Playa del Carmen to Cozumel takes about 45 minutes. However, the faster ferries take half the time, or approximately 25 minutes.
Ferry schedules from Playa del Carmen to Cozumel and back change constantly, mostly depending on the weather and the conditions of the water. Generally, ferries from Playa del Carmen to Cozumel start operating around 5 in the morning, and close after the 11 pm trip. To be sure, just go to a ticket booth and ask for the schedule for the day. Ticket booths are located on 5th Avenue, around the plaza and near the ferry docks. You may also go directly to the docks to buy a ticket, and wait for the next ride. Since numerous workers in Cozumel live outside the island, the early trips get sold out quickly. If you're planning to go to Cozumel, it is best to avoid these early morning trips.