Typical Foods of Playa del Carmen, Mexico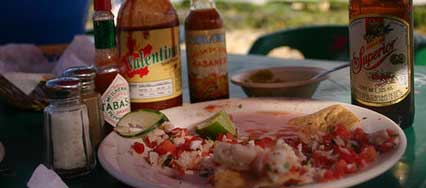 Mexican food
A trip to Playa del Carmen would be incomplete without tasting authentic Mexican cuisine. Although Playa del Carmen is filled with international restaurants to suit the taste of tourists, traditional Yucatan cuisine can also be found throughout the area.
A real Mayan dish that you should try is the pork or chicken pibil. These are pork and chicken dishes prepared in a red sauce, and is served with onions and beans on a banana leaf. Another Mayan dish you should try is the poc chuc, which is grilled pork marinated in sour orange. Comida corrida is a combination meal, where you get a soup, a main dish with rice and beans, and flavored water. You are given a set number of options for the main dish. Antojitos are also good fast food, and are available from restaurants and vendors walking the streets. Other local food include relleno negro, cocido, and chocholomo.
Other must-try foods include huevos motuleños, which is a special kind of fried egg mixed with ham, cheese and peas; salbutes, which is fried tortilla with toppings of onion, avocado and turkey; ceviche, which is chopped fish topped with vegetables; and of course various Mexican condiments, such as salsa and chili sauce.
Classic Mexican foods known worldwide are also popular in Playa del Carmen. These include quesadillas, tortillas, flautas, and enchiladas, to name a few.
Most restaurants, both serving local and international cuisine, are dotted all over Playa del Carmen's 5th Avenue. However, the authentic Mexican restaurants are usually not located in tourist zones. Try going to other areas in Playa del Carmen, such as 30th Avenue, Calle 34 and Constituyentes. Juarez Avenue is also a good spot. There you will find authentic Yucatan restaurants, where the restaurant staff speaks Spanish. It's worth a try!
Typical Drinks of Playa del Carmen
Enter this page for information:
Restaurants in Playa del Carmen
See some great places to eat and drink here: