Horseback Riding in Playa del Carmen, Mexico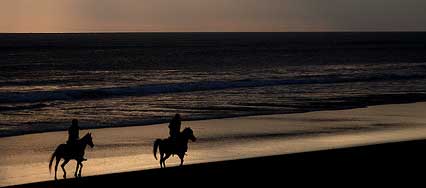 Horseback riding in Playa del Carmen
If you're tired of walking around town or riding a boat all over the area, you can try a different way of exploring Playa del Carmen. A unique way of touring Playa del Carmen is via horseback riding.
One of the famous ranches near Playa del Carmen is Rancho Punta Venado, near the port of Calica. The ranch can be accessed by going east from Highway 307. This ranch contains more than 800 hectares of land, approximately 2 miles of which are coastlines. The ranch has spacious stables and several horses. The horses are used to new riders, and can tolerate them well. Another popular ranch in the Mayan Riviera is the Loma Bonita Ranch.
Horseback riding tours travel around the coastal trail and in the jungle. Along the way, you will notice various forms of wildlife. Tropical flora and fauna are present in the area, including ceibas, zapotes and poplars. The tours typically have guides to point out various interesting aspects in the environment. Travel guides are typically bilingual. Some guides even provide additional entertainment, such as singing. The tours also typically include refreshments at stops in between the rides. Other horseback riding tours include additional kayaking activities and snorkeling tours in cenotes.
There is usually a weight restriction for those who plan to go horseback riding. Depending on your height, riders typically have to weigh less than 200 to 250 pounds. Children can also safely go on horseback riding tours.
If you are an experienced horseback rider, you can choose to have your horse gallop along the beach and through the jungle. An experienced travel guide will join you.
If you're not comfortable with horses, you can still tour the jungle using an ATV, a bike or a jeep.
Horseback riding tours typically cost around 50 US dollars per person, and a little less for children. Try it!