La Quinta Avenida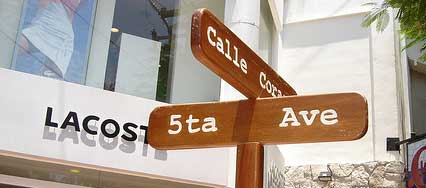 La Quinta Avenida - Fifth Avenue
Playa del Carmen's main thoroughfare is called "Quinta Avenida", or Fifth Avenue. This pedestrian walkway runs parallel to the ocean (around 500 meters away from it) and in between them are hotels, bed & breakfasts, inns, rentals, timeshares, and eating places. Intersecting with the avenue are streets that all lead to the beach. Along many of these streets you will find dive-shops, convenience stores, more hotels, travel agencies and tour operators, Internet cafes, money changers, restaurants, discos and bars.
The Quinta Avenida offers a wide selection of dining, shopping, and entertainment options. The strip is filled with hotels, restaurants, cafes, bars, boutiques, shops and stalls. Most of the restaurants here are upscale and trendy and serve Italian cuisine, some serve American dishes whiel others serve reasonably-priced yet delicious and authentic Mexican cuisine.
The shops in the area sell almost everything you can think of, ranging from trendy clothes to Mexican handicrafts and Cuban cigars. The avenue radiates a vibrant and exciting atmosphere, similar to that of a carnival. Plus, if you get lucky you may even chance upon wild animals, fire breathers, mimes, clowns and a hodgepodge of other characters parading down the street.
Quinta Avenida bustles with even more energy as the sun goes down. At night, the bars along the avenue come to life creating a fun and exciting party atmosphere. Some clubs located by the beach away from the majority of hotels and resorts (because of the noise level) can still be seen in full swing even after midnight.
As you go further away from Quinta Avenida, a major tourist zone, you will notice that things become cheaper. Here you will come across some of the best Mexican restaurants serving local food and drink as well as other fascinating stores selling anything and everything you can think of.