Maya Ruins in Mexico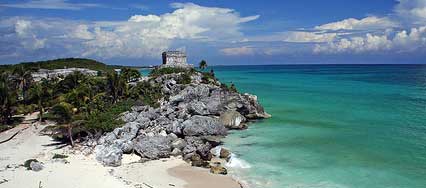 Tulum ruins
Many centuries ago, the ancient Mayan civilization inhabited, controlled and reigned over the vast jungles of the Yucatan. They constructed magnificent, intricate stone cities and some temples and structures still remain to this day. These testaments to the remarkable civilization are known today as Mayan Ruins. Some of those that can be found in the area of Playa del Carmen include the ruins in Chichen Itza, Tulum, Coba, Muyil and Ek Balam.
Chichen Itza is a four square mile archaeological city located 200 kilometers west of Cancun. This impressive site has become a popular day-trip destination for Playa del Carmen tourists and is the most visited archaeological site in Mexico. Here you can see famous landmarks such as the El Castillo (one of the best preserved and rebuilt pyramids of the Mayan world), the Temple of the Warriors (that houses the legendary Chaac-Mool) and the largest Mayan ball court in existence.
The Tulum Ruins, located in the city of Tulum, is one of the most beautiful archaeological sites because it is perched on a cliff and surrounded by a beautiful white sand beach. There is a large wall surrounding the city and this is probably why it was named Tulum, the Mayan word for "wall. Some of interesting landmarks in this site include the Temple of the Frescoes, the Castillo (the largest structure on the site), and the Temple of the Winds.
The Coba Ruins are located around 50 kilometers west of Tulum. One of the most fascinating features here is the sacbeob (Mayan term for white roads), a very advanced system of raised roads that connected the whole Yucatan Peninsula. The highest pyramid in the area, Nohoch Mul, can also be found here.
The Muyil or Chyunyaxche Ruins is located just south of Tulum. This site is mostly covered with vegetation although it also has some interesting temples. The uncovered area is quite small as compared to Chichen Itza, Tulum or Coba but it is still worth visiting.
Finally, the Ek Balam ruins, located two-and-a-half hours away from Playa del Carmen, is a rarely visited site but is a wonderful treat for anyone who is genuinely interested in Mayan art and architecture. Apart from having some of the Yucatan's most magnificent buildings and an amazingly extraordinary stucco wall with full figure statues and hieroglyphs, this site also houses the El Torre (or "the tower), one of the largest Mayan structures in the Yucatan.