Playa del Carmen Nightlife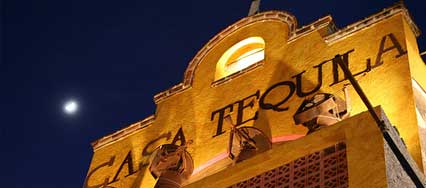 Casa Tequila, Playa del Carmen
Although not as wild as the nightlife in neighboring Cancun, Playa del Carmen also has a bustling nightlife.
Quinta Avenida comes alive every night, with various bars and clubs open until the wee hours of the morning. Some popular clubs can also be found on the beach. Most popular clubs play non-stop dance, electronic or lounge music throughout the night, while offering a variety of drinks. Most clubs have dance floors, which can extend to the white sands of the beaches of Playa del Carmen. Bar hopping is also easy to do in Playa del Carmen, as the clubs are located quite near each other. Be sure to drop by The Blue Parrot, one of the most famous nightclubs in the area.
For sports fans, there are various sports bars in Playa del Carmen. Sports events include NBA, NHL, NFL, Major League Baseball and soccer games. Most of these games are broadcasted in English.
If you want a more quiet night, you can also go to bars where the music is mostly reggae or jazz. You can also attend special events, catch theatrical plays or go to a movie, which are usually subtitled, instead.
When going for a night out in Playa del Carmen, the dress code is still casual. Depending on where you're going, you can dress up or dress down based on your preference. Take note that some clubs do have dress codes that do not allow visitors wearing sandals or shorts inside.
Have fun at night in Playa del Carmen!
Learn more about the nightlife in Playa del Carmen by clicking on the links below: