Quintana Roo, Mexico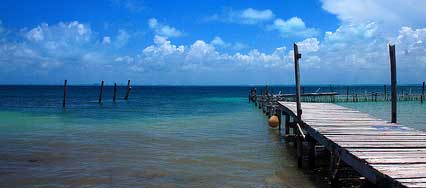 Isla Mujeres
The Mexican state of Quintana Roo, together with the states of Yucatan and Campeche, comprise the Yucatan Peninsula. Quintana Roo is situated in the eastern section of the peninsula and runs along the Caribbean Sea.
The state is divided into eight municipalities: Cozumel, Felipe Carrillo Puerto, Isla Mujeres, Othon P. Blanco, Benito Juarez, Jose Maria Morelos, Chetumal, and Lazaro Cardenas and Soldaridad. In Quintana Roo you will find the world-famous resorts of Cancun, the beautiful islands of Cozumel and Isla Mujeres, and the quaint and charming towns of Felipe Carrillo Puerto, Akumal, Playa del Carmen, Puerto Juárez, Bacalar, Xcalak and Puerto Morelos. Ancient Mayan ruins sites also abound in the area, as do ecological parks. The weather here is generally warm with the occasional occurrence of rain showers here and there.
Quintano Roo was named after Andres Quintana Roo, a Mexican patriot and poet who played an important role in Mexico's battle for freedom and independence. On October 8th, 1974, Quintana Roo was given the official status of being Free and Sovereign State and its local constitution was promulgated on January 12th, 1975. As such, it is the youngest state of Mexico and in recent years has started to become one of the country's most popular and most important tourist destinations.
Travelers planning a trip to Quintana Roo will most definitely have an amazing time. Its white sand beaches surrounded by crystal clear waters are considered to be among the beautiful in the world. Watersports and activities of every imaginable kind abound. Also, be sure not to miss out on other major tourist attractions, such as the Sian Ka'an Biosphere Reserve, Punta Laguna, Cozumel Reefs National Park and archaeological sites in Tulum, Muyil and San Gervasio.