Playa del Carmen Resorts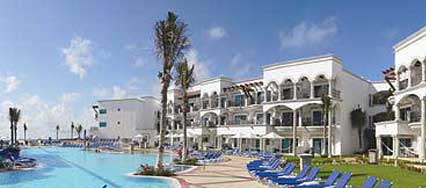 One of Playa del Carmen's many resorts
The resorts in Playa del Carmen can be quite competitive, and offer an unlimited range of facilities and activities to their guests. The resorts in Playa del Carmen are located all over the beach. Beachfront resorts are typically more expensive than if resorts farther away from the shore.
All-inclusive resorts are very popular in Playa del Carmen, especially in the first-class area of Playacar. Aside from your accommodations, all-inclusive plans generally cover all of your food and drinks for your entire stay in Playa del Carmen. You are also allowed to use other equipment available in the resort, including kayaks, snorkeling gear, gym, Internet service, beach towels, and occasionally, a safe. Some resorts also offer to include scuba lessons and allow access to a "kid's zone for your children. If you are willing to pay a certain additional amount, your plan may include airport transfers, babysitting services, laundry services and even discounted renting for boats ad other water crafts.
Resorts in Playa del Carmen also offer a multitude of activities to their guests. You can take advantage of various sports, such as basketball, soccer, golf, bowling and cycling. Activities in the water, such as snorkeling, scuba diving, surfing, parasailing, jet skiing and banana boat rides, are also available. Other activities include day tours, Spanish classes, Mexican cooking lessons, dance lessons, access to libraries, and spa treatments. These resorts typically hire an Animation staff, a group of individuals who supply the entertainment for the resort's guests.
When choosing a Playa del Carmen resort to stay in, frequent travelers recommend that you find a resort that does not directly lie on the beach. Resorts that are located about a block away are generally cheaper, but have more or less the same amenities. All-inclusive resorts are generally located in isolated areas, and may also not be the best choice for you if you want to enjoy an authentic beach experience. However, an all-inclusive plan may be the best option if you're bringing your children along.