The Riviera Maya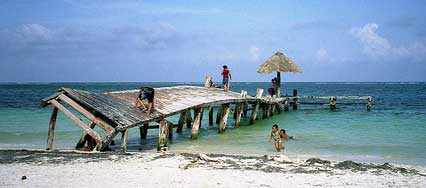 Puerto Moreles, Riviera Maya
The Riviera Maya is the tourist district located in the stretch of coastline along the Yucatan Peninsula from Playa del Carmen to Tulum. The most popular tourist destinations of the area are Cancun, Cozumel, Isla Mujeres, Puerto Aventuras, Puerto Morelos, Akumal, Tulum and Playa del Carmen. The past few years have seen the birth of numerous all-inclusive resorts and boutique hotels in the Riviera, a testament to its flourishing tourist industry and thriving economic growth.
Visitors can choose from a wide-ranging selection of sights to see and things to do in the Riviera Maya. Enjoy the sun, sea and sand of the world class beaches of Puerto Morelos, Playa del Secreto, Punta Maroma, Playa del Carmen, Paamul and Tulum. Powder-fine, white sand amidst turquoise water and a rich and diverse marine life characterize the beaches here.
Take a tour of the famous archaeological sites of Xcaret, Xel-Ha, Tulum, Coba and Muyil. The ancient Mayan civilization and its culture and way of life can be felt and is still very much alive here. Experience history and nature at its best in Puerto Morelos Reefs Reserve, Yaax Che Garden, Xcaret, Punta Venado, Aktun Chen, Kantun Chi, Xel-Ha, Sian Ka'an Natural Reserve. The opulent variety of magnificent landscapes, archaeological treasures and rich biological diversity in the Riviera Maya truly makes it one of the finest natural wonders of the world.
If you are planning to travel to the Riviera Maya via plane, it is best to land in Cancun as the Cancun International Airport is the nearest airport. Going to the Riviera via boat is also possible since a lot of them dock at the nearby island of Cozumel. From there you can take a ferry that will bring you to Playa del Carmen. Getting around the island is easy as well since there is plenty of public transportation from which to choose.