Sian Ka´an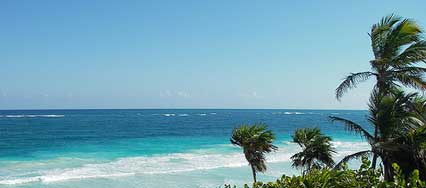 Si'an Kaan biosphere, Tulum Mexico
Sian Ka'an is a biosphere reserve located in the southern part of the state of Quintana Roo. It was established as a reserve in 1982, awarded full status as a biosphere reserve in 1986 and declared a UNESCO World Heritage Site in 1987. It is approximately 1.3 million acres in size and comprises almost one-third of Mexico's Caribbean coast. It is considered to be the third largest protected area in Mexico and part of the second largest coral reef in the world. A portion of the reserve is on land and another portion of it is in the Caribbean Sea. The term Sian Ka'an is Mayan in origin that means "where the sky begins or "where the sky is born.
The Sian Ka'an Biosphere Reserve is divided into three main zones: Uaimil (the largest area), Cayo Culebras, and Muyil. It has two remarkable bays, Ascension Bay and Espiritu Santo Bay, which serves as a habitat to a large amount of marine life. The reserve is a haven for an extraordinarily rich assortment of flora and fauna. These include 318 species of butterflies, 345 species of birds, 103 species of mammals, 230 species of trees and 1,200 plants among others. There are also up to 30 archaeological sites of the ancient Mayan Civilization in the area with relics that go to 2,300 years back. Apart from being exceptional for its geography and wetlands, it is also unique because of the fact that it serves as home to about 5,000 people, a majority of who inhabit the fishing villages of Punta Allen and Punta Herrero. An estimate of around 1% of the land within the reserve is privately owned.
Although Sian Ka'an is becoming more popular each year, tourism is still quite a new phenomenon in this astonishing reserve.