Dolphin Swimming in and around Cancun, Mexico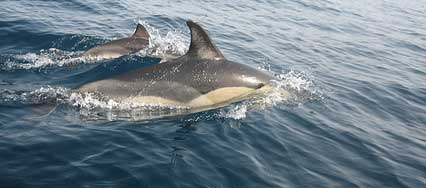 Dolphins swimming in the sea
For animal lovers, a wonderful activity you can do in Playa del Carmen is swimming with dolphins. There are different places where you can do this.
Nature parks are popular in the Riviera Maya. Here, you can take advantage of getting in close contact with various unique plants and animals. In the ecological parks Xel-Ha and Xcaret, you are given the chance to swim with dolphins. In both places, you will be allowed to interact and play with the dolphins in the water. Aside from interacting with dolphins, you can also enjoy other marine life present in the dolphinarium, such as smaller fish and plant species. Xel-Ha can be found approximately 30 miles from Playa del Carmen. Meanwhile, Xcaret can be found about 5 miles from Playa del Carmen. Both parks are open to the public everyday.
Puerto Aventuras is another place where you can swim with dolphins. Puerto Aventuras is approximately 20 minutes away from Playa del Carmen. The marina where you can go swimming with dolphins is lined by different restaurants and stores. Aside from this, the trip also includes a free museum tour of Club de Exploraciones y Deportes Acuaticos de Mexico, also known as CEDAM.
You can also travel farther away, specifically in Cancun, to swim with dolphins. Dolphin facilities in Cancun train dolphins and help them reproduce.
Bottlenose dolphins abound in the Caribbean Sea. Some tourists have been lucky enough to find schools of dolphins while snorkeling and scuba diving. This is another way to interact with dolphins without the added cost; however, it is not always possible to find dolphins during a snorkeling or scuba diving session.
The cost of swimming with dolphins varies, but is generally around 100-150 US Dollars per person. Typically, these tours already provide transportation both from your hotel to the site and vice versa.