Tours of Playa del Carmen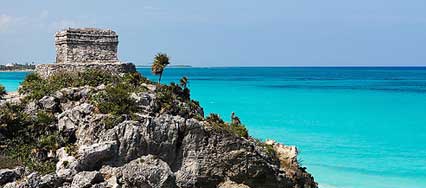 Tulum ruins
Going on tours is the perfect way to explore Playa del Carmen and its surroundings.
Playa del Carmen is renowned for its ecotourism. You can visit various natural parks in the area, such as Aktun Chen, Xel Haand Xcaret, to name a few. Nature tours allow you to disocover endless natural wonders, such as caves, cenotes, mangroves, and the various plant and animal species unique to Playa del Carmen. Playa del Carmen has several bus companies, such as Tours Aldebaran, that offer organized trips.
Jungle tours are also popular in Playa del Carmen. Typically, a jeep safari or an ATV is used, although some companies also offer organized horseback riding tours to explore the area.
Another popular itinerary in Playa del Carmen is exploring nearby archaeological sites of the Maya civilization. These include Chichen Itza, Tulum and Coba, among others. Some trips already include a tour guide to help you navigate through the sites.
Cruises allow you to go from Playa del Carmen to other places, such as Cozumel ad Isla Mujeres. Cruise packages generally last a few days, and provide you with meals while you're aboard.
For those looking to get their feet wet, there are countless underwater tours in Playa del Carmen. Dive shops offer snorkeling and scuba-diving tours which give you the up-close opportunity to see tropical fish and the coral reef. There are also tours that allow you to swim and play with dolphins, though these can be quite expensive.
For partygoers, there are even bar-hopping tours in Playa del Carmen. These tours usually take you to Cancun and back, to fully experience the Yucatan Peninsula's most nightlife.
When selecting a tour, make sure that the tour company provides transportation to and from your hotel or resort. You may also want to choose a trip that offers meals along with the tour, which is very convenient. If you are traveling with children or senior citizens, find a tour company that provides special amenities for kids and the elderly.